This week's Bloggography challenge is Shutter Speed using the S or Tv mode. I have never manually adjusted my shutter speed or even thought to do so before now. Honestly, I am not even sure if I've done it right--captured what I should have, but I've been practicing off and on all week, and here's what I've gotten so far....
I had the kids do some basket jumping for me in our family/school room. They thought this was a blast and have done it since many times. Joe's pictures came out best. He seemed to be just the right height to capture his whole body in the frame without the lighting being off.
For the challenge you are to take a picture of something in action, and you can choose to freeze the action or deliberately blur it. I tried to capture each of these. I took these pictures in Tv mode, adjusting the shutter speed as follows, and did no editing other than to resize them for this post. I let the camera select the ISO speed and noticed it was at 160 for these shots.
1/60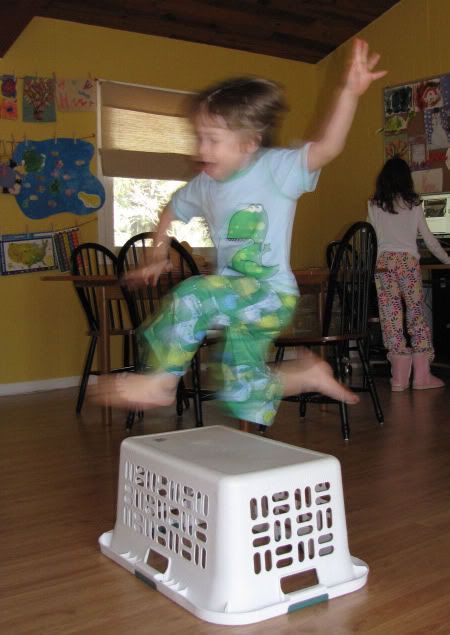 1/500--I took another at 1/250 but it was just about as blurry as the one above.
1/800

To see what others captured this week visit Beth and Lolli for their weekly tutorial and Bloggography challenge.